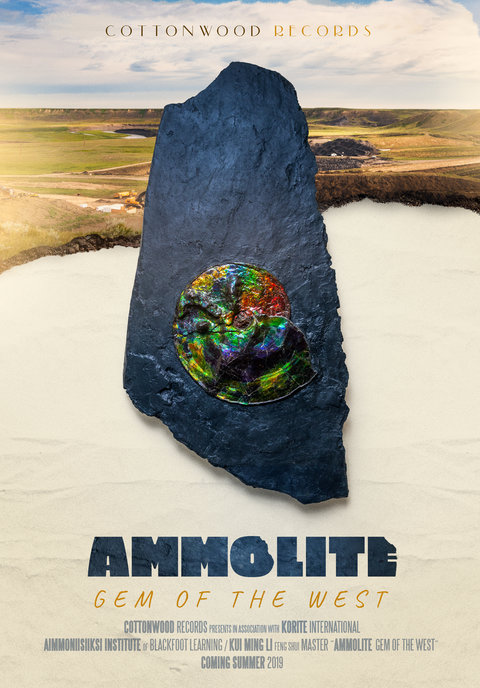 Ammolite: Gem of the West
AB
An educational documentary about one of the world's rarest gemstone, ammolite, mined exclusively in Southern Alberta.
Synopsis
The rare gemstone 'ammolite' is an interesting aspect of Southern Alberta culture that, even for many Albertans, remains an unfamiliar topic. Much of the local population is unaware that ammolite is one of the rarest gemstones on earth, and that the only known deposit exists along the eastern slopes of the Rocky Mountains in our own backyard. Using a combination of interviews, CGI, voiceovers, and on-location filming we will be working with KORITE International, the Blackfoot Nation, independent geologists, museum experts, and more to bring the story of ammolite, past, present and future, to life, all in stunning 4K.
The team
We are more than just a team - we are a family. Collectively, we have a broad-set of skills, influential network and the talent to deliver. We love collaborating on projects and working with new talent - contact our project lead for details.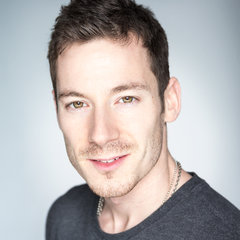 Joel Varjassy
Editor, Producer, Production Design, Camera Operator, Lighting, Sound Engineer, Motion Graphics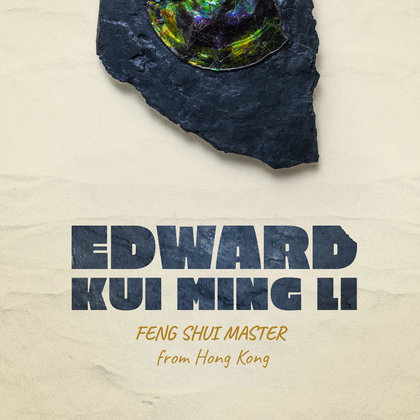 Edward Kui Ming Li
Feng Shui Master from Hong Kong. Edward was the first Feng Shui master to endorse ammolite for its ability to radiate positive energy, and has played an integral role in the success of ammolite, particularly in the Asian markets. He will share how the precious gem, dubbed the Seven Colour Prosperity Stone by Feng Shui practitioners, is regarded as the most influential gemstone of the millennium for its ability promote the flow of "chi" throughout the body, enhance well-being, and reduce toxins.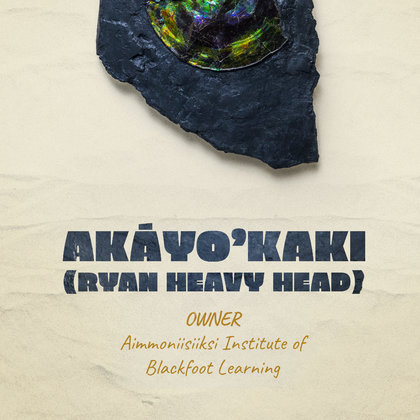 Ryan Heavy Head, Akáyo'kaki
Ryan is recognized for his ecological studies rooted in Blackfoot traditional-knowledge, and for his role as the lead conservator for prairie rattlesnakes in the city of Lethbridge. He holds a Blackfoot Eminent Scholar Kainai Doctorate from Red Crow College and the Blood Tribe, a Masters degree in cultural anthropology from the University of Lethbridge, and principal transfer rights in the Niitsitapi discipline of Beaver Bundle Caretaking. Ryan is the owner of the Aimmoniisiiksi Institute, which offers learning opportunities anchored in the Blackfoot knowledge paradigm.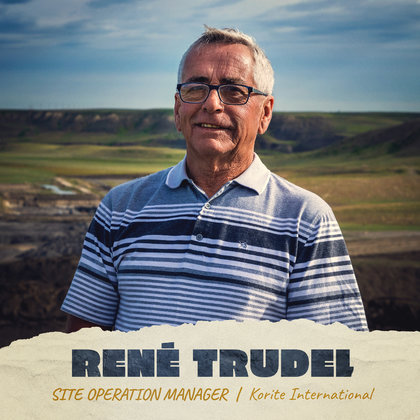 Rene Trudel
Site Operation Manager, KORITE International. René has been working with KORITE since 1983 and has played an instrumental role in bringing ammolite to market. He knows the Bearpaw Formation like the back of his hand, having overseen the excavation of 57 hectares of land in the area over the past 35 years, searching for the elusive gemstone. He's received international recognition and praise for his reclamation mining practices. René will share the story of KORITE's humble beginnings and how ammolite mined locally has achieved gemstone status and made its way across the globe.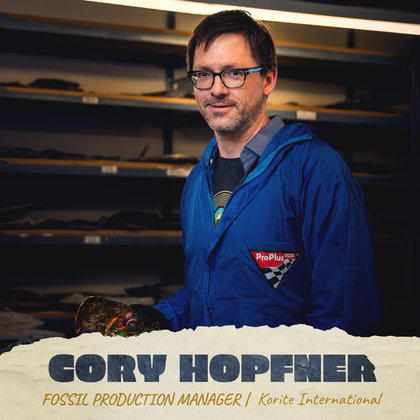 Cory Hopfner
Fossil Production Manager, KORITE International. Cory has been with KORITE since 1999 and is primarily responsible for the oversight of ensuring the rough from the mine ends as a beautiful, finished product. Cory will share with us how the production process has evolved over the years and where he sees it going in the future.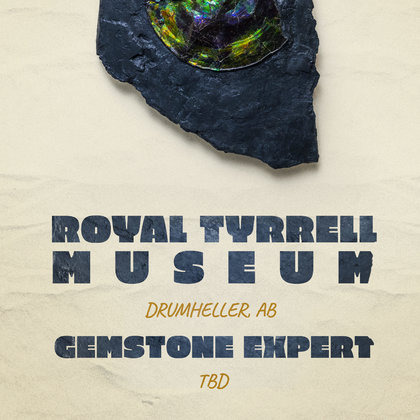 Unconfirmed Experts
We will also arrange interviews with key people from museums and galleries with gem quality ammonites from Southern Alberta on display, including the Royal Tyrrell Museum in Drumheller. As we get closer to production we will identify who to speak with and arrange these additional interviews. We will also be seeking out an independent gem expert to better explain how the gems are graded and, where they fit within the current gem market, and how this has evolved over the years.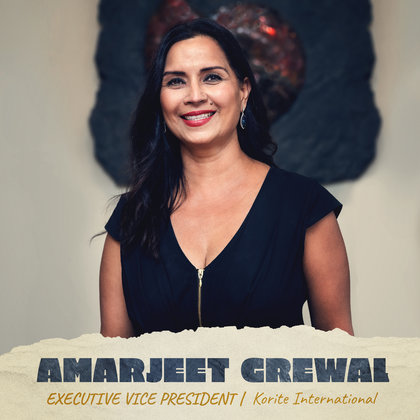 Amarjeet Grewal
Executive Vice President, KORITE International. Amarjeet has been working with KORITE since 1991 and has held a variety of key roles at KORITE including Inventory Control Manager, V.P. of Merchandising and now Executive Vice President. Having been a part of KORITE for the past 26 years, she will share with us the evolution of the company that brought ammolite to market.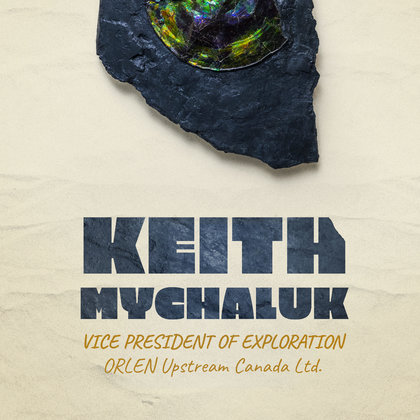 Keith Mychaluk
Vice President of Exploration, ORLEN Upstream Canada Ltd. Keith is a geologist in Calgary, Alberta and is the author of Gems & Gemology's "Update on Ammolite Production from Southern Alberta, Canada" and co-author of Gems & Gemology's "Ammolite: Iridescent Fossilized Ammonite from Southern Alberta, Canada". Keith is an expert on the subject and will provide an independent, third-party perspective on the past, present and future of ammolite.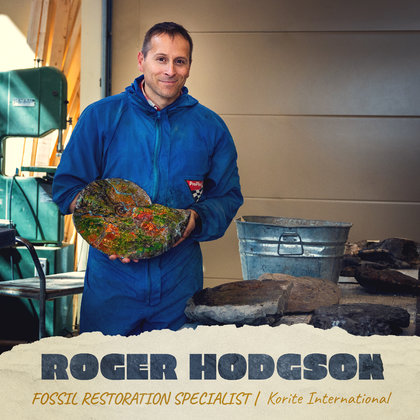 Roger Hodgson
Fossil Restoration Specialist, KORITE International. Roger has been with KORITE since 2003 and is responsible for restoring the rough ammonites pulled from the ground into beautiful whole specimens. Roger will walk us through this hands on process that can take anywhere between 80 and 150+ hours for a complete restoration.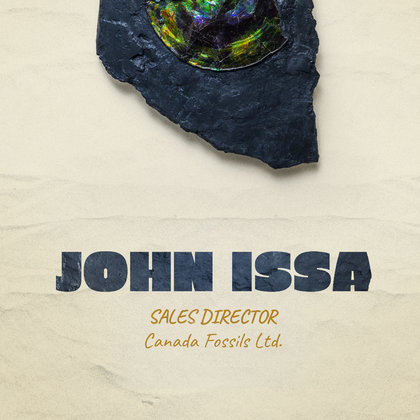 John Issa
Sales Director, Canada Fossils Ltd. John has been buying and selling ammolite since 1999. He will share with us some of the opportunities and challenges he faces in his career, what his day-to-day is like, as well as the change in supply and demand of ammolite over the years.