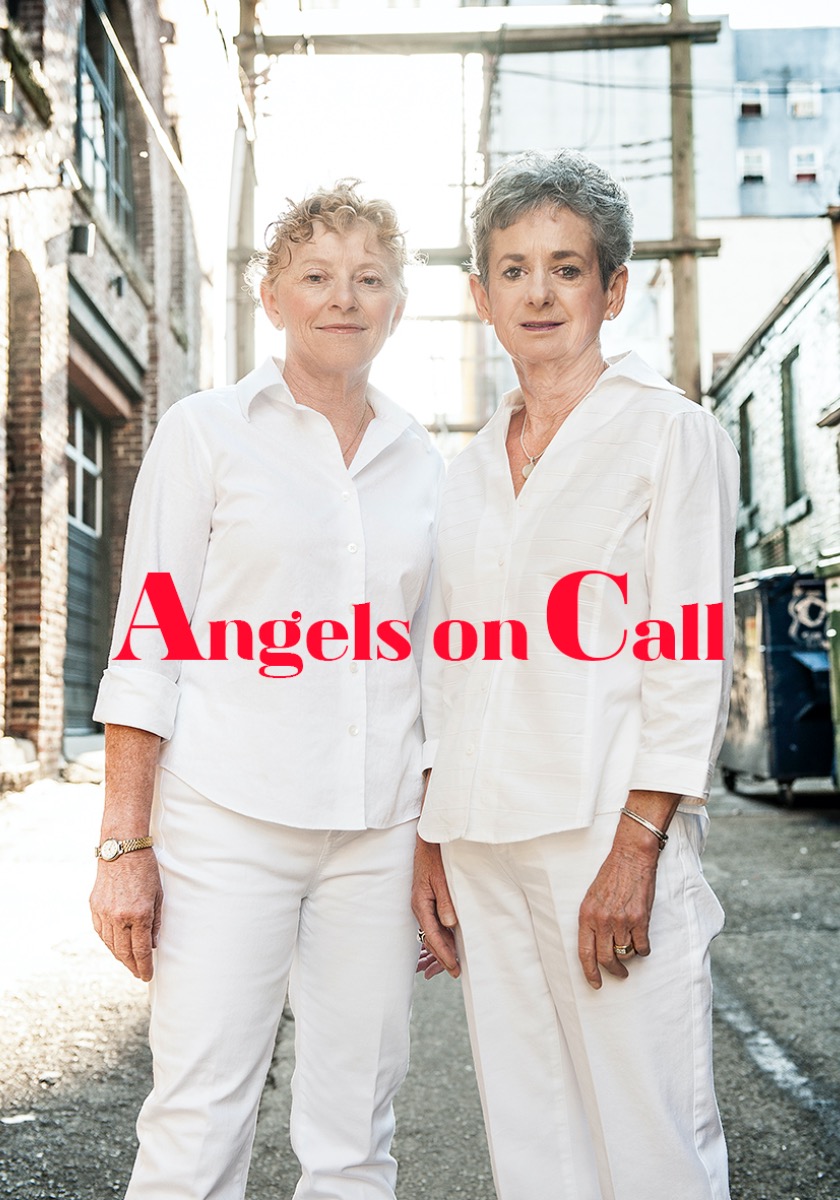 2020 Local Heroes Documentary Edition
Angels on Call
Vancouver, BC
In Vancouver, two street nurses forego retirement to help battle the Downtown Eastside's opioid crisis.
Synopsis
In 2016, nurses Evanna Brennan and Susan Giles came out of retirement in response to the opioid crisis in Vancouver's Downtown Eastside (DTES). Today, at age 73 and 67 respectively, they provide full time care to a myriad of desperately sick, addicted and mentally ill people living in decrepit hotels or on the street. The need for care in the DTES has soared during the Covid-19 pandemic; social isolation protocols have led to more than 100 overdoses a month. Angels on Call not only highlights the worsening opioid crisis, told through the eyes of Brennan and Giles, but the love and emotional support they give their patients, many of whom have no one but the nurses to care for them.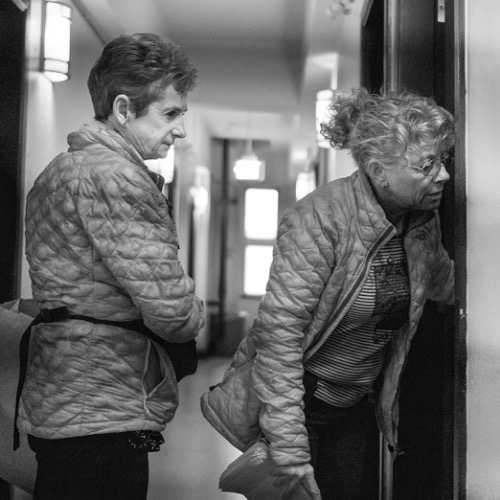 Evanna Brennan (left).
One of the two "Angels on Call," Evanna Brennan, 73, has a formidable strength of purpose that was nurtured by a devout religious upbringing in Ireland under the tutelage of Dominican nuns. She met Susan Giles, her current work partner, when she immigrated to Canada. Despite battling cancer Brennan today gathers strength from her remarkable friendship with Giles, as well as the hundreds of patients they care for in the Downtown Eastside.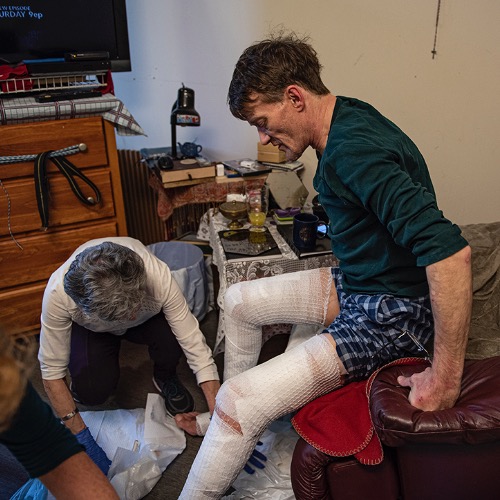 Jean-Marc-last name withheld for confidentiality reasons, at the request of Lookout Housing Society
Jean-Marc, a resident of First Place in Vancouver, has developed venous sclerosis from injection drug use and is under the care of street nurses Evanna Brennan and Susan Giles. He has also saved dozens of lives in his building as well as the back alley behind it with the Narcan kits (opioid antidote) that he keeps on stock. But he is succumbing to burnout. "All the grief and anger you carry around builds up."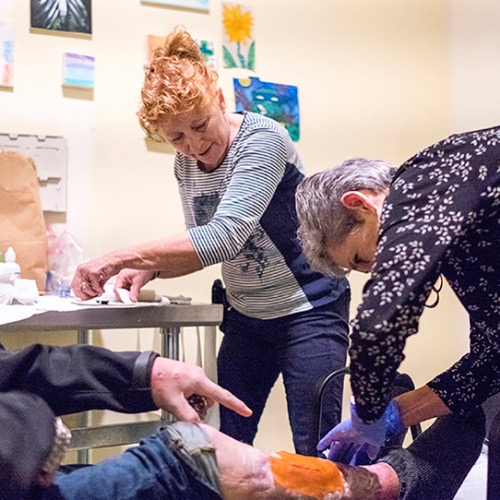 Susan Giles
The second of the two "Angels," Susan Giles, 67, is driven by the belief that heath care is everybody's right. She started her street nursing career in 1979, retired about 25 years later, then reinvented herself as a street nurse working alongside Evanna Brennan. Her early nursing career was spent caring for dying AIDS victims in Vancouver. Today's situation in the Downtown Eastside reminds Giles of those desperate days. "I feel very hopeless right now. The overdose rate – it's crazy."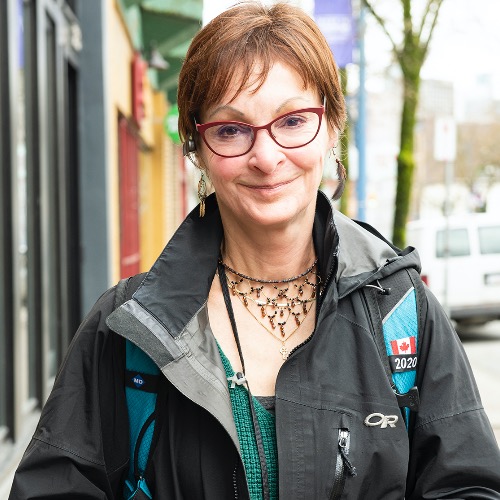 Dr. Sue Burgess
Dr. Sue Burgess is a palliative care physician who ministers to her patients by walking the streets of the Downtown Eastside. She works closely with nurses Evanna Brennan and Susan Giles, who act as her eyes and ears, connecting her immediately when a patient needs a physician's care. Dr. Burgess, who is also in her 70s, upholds the same humanitarian ethos that drives Brennan and Giles, and understands and respects the nurses' love and devotion to their vulnerable patients.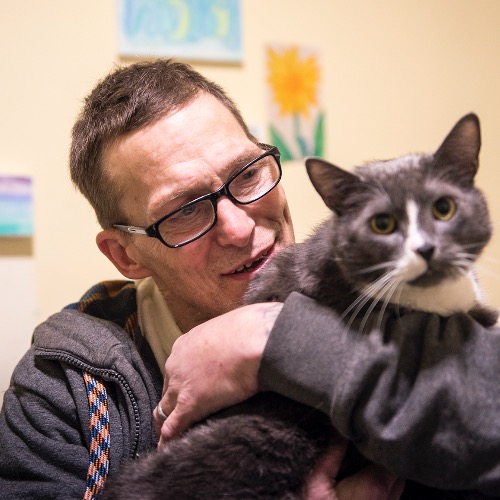 Rick-last name being withheld for confidentiality reasons at the request of Lookout Housing Society.
Rick is an opioid addict, originally from Ontario, who was prescribed the opioid Percocet after injuring his back in a work accident. He immediately became addicted, and when his prescription ran out, Rick began injecting heroin. He moved to the Downtown Eastside and, since then, developed a myriad of ailments related to his intravenous drug use, including venous sclerosis, a loss of vein function that leads to huge abscesses. He has been a patient of Brennan and Giles for five years. Rick says he likely wouldn't be alive today if not for their care.