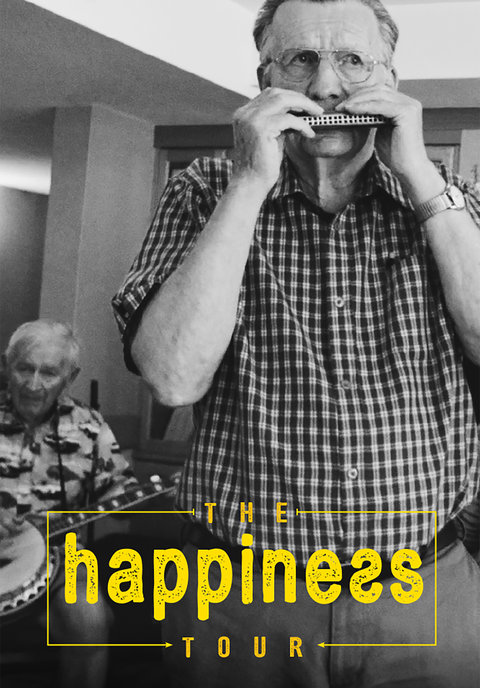 The Happiness Tour
WHISTLER, BC
A heartwarming look at a motley crew of witty seniors who decide to form a rock band and go on a happiness tour.
Synopsis
This short doc is a heartwarming look into the life changing impact that music has when it brings together a hilarious motley crew of seniors who in their 80's and 90's decide to form a band called, The Happy Music Makers. Their story is uplifting and funny. They are quirky, full of wit and will fill your heart with joy and laughter. Their methods for preparing for a gig are unconventional, their fan base is extremely diverse but most importantly they reveal the secret to staying happy until death kicks them out of the band. As a creator in this digital age, I believe it's critical to ensure that our elders, who aren't part of the digital conversation, still have a voice. Please help me let these beautiful people be heard.
The team
Super stoked to have Artur Gajda as my cinematographer. He has extensive experience and really understands how to capture doc style moments in a beautiful way. Looking for a motion graphics artist to weave elegant typography into this poetic film.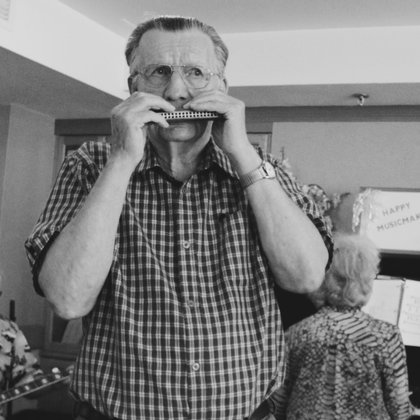 Dan Russel - 86 Years Old
Dan is a farmer and plays a mean Harmonica. He is the cover for our video because he is the master of the dead pan face when things are funny. He brings a little country twist to the band.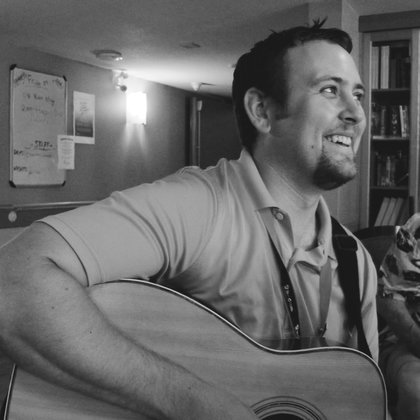 Chris Smith
Chris works with the seniors at Heron Grove Senior Centre. He uses music as a tool to reach out to seniors, especially those with dementia. He offers some very Interesting facts and insights around the positive affects of music and how and why it is integrated into the lives of seniors.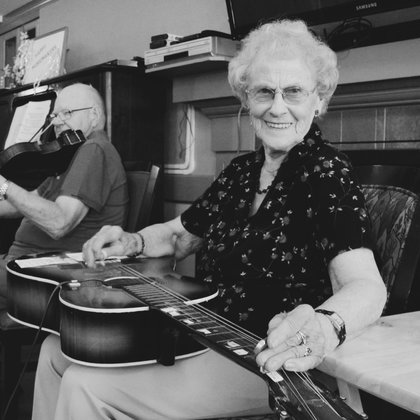 Kay Meger - 95 Years Old
Kay plays the Hawaiian Guitar with the hugest big grin on her face. She is adorable and bad ass at the same time. She knows the secret to the fountain of youth and it has to do with playing happy music. Viewers will absolutely fall in love with Kay. Did I mention that she is 95 years old!!!!!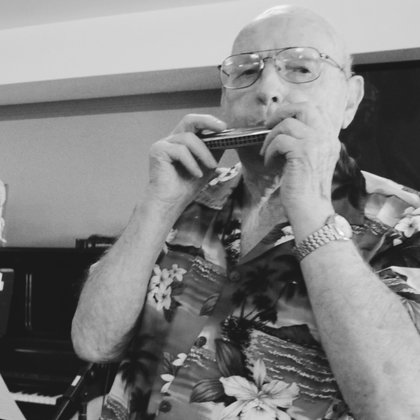 Bob Patmore, 90 Years Old
Bob is the band leader. He started playing harmonica in his spare time in 1947 when he was guiding logs up a "Jack Ladder" at a sawmill in Alberta. He books the gigs for the band, chooses the play lists and keeps everyone on their toes. He also has an endless list of jokes that he tells between songs.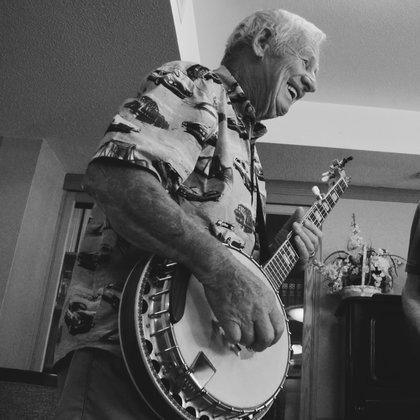 Larry Guenther - 86 year old
Larry was a classically trained cellist who played in the Winnipeg Symphony Orchestra. He left home when he was 15 with his cello on the back of his Harley. He now plays the five string banjo. It's a lot easier to transport. He's one of the coolest people that I know and also happens to be my dad. The story will focus a little more on him than the others as I will have more access to him and know personally hundreds of hilarious stories about where music has taken him. He has demonstrated throughout my life, what it means to live to the beat of his own banjo and really harness happiness.